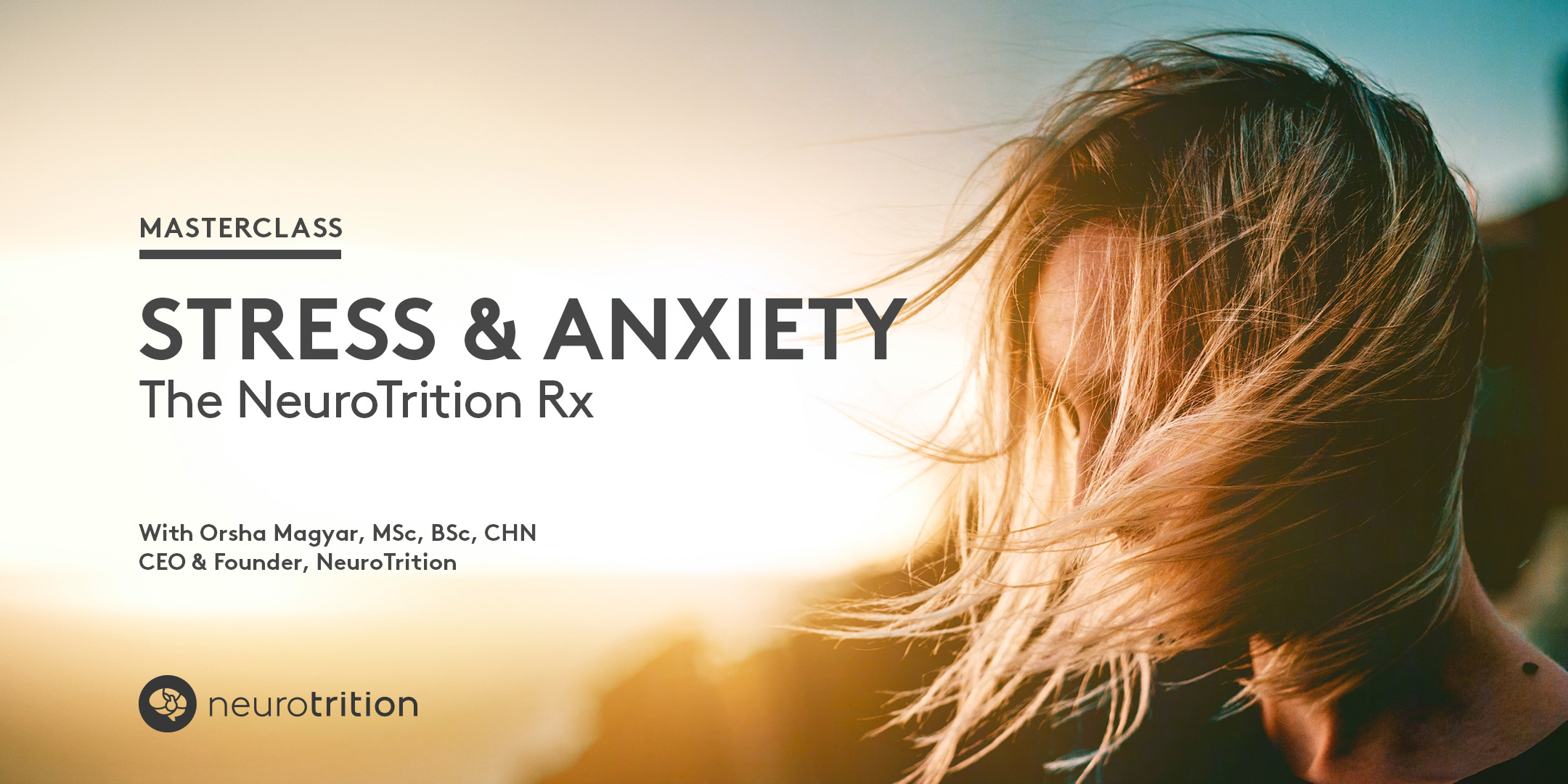 Online Workshop
Stress & Anxiety: The NeuroTrition Rx
DATE
Wednesday October 13, 2021
BACK BY POPULAR DEMAND - AND WITH UPDATED CONTENT!
In this free 1.5 hour online Masterclass Orsha Magyar, CEO and Founder of NeuroTrition, will unpack the nutritional neuroscience research on the top six nutrients (updated from five with what the latest research is saying about nutrient deficiencies and the pandemic) NeuroTrition works with to address stress and anxiety. Plus, she will teach you how to enjoy these nutrients daily through everyday, simple whole foods (and will share important tips for each if you do choose to supplement).
What will I get from this FREE online Masterclass?
You can expect Orsha to expertly translate the brain science research into applied nutrition knowledge that you can use immediately to fight back against the negative effects of stress and to reduce anxiety.
You will learn about:
i) The mental health and neurological conditions that science suggests a NeuroTritional approach can help
ii) Your body's OTHER immune system (the one that NO one is talking about!)
iii) How your gut microbiome helps regulate stress and neuro-inflammation
iv) The SIX evidence-based nutrients to fight back against stress and anxiety (newly updated to reflect the latest research)
v) How to get these nutrients from simple, everyday whole foods
vi) Critical information you need to know if you're going to supplement with these nutrients
The lecture component will be 60 minutes long, followed by a 30 minute Q & A so you can receive Orsha's direct support and ask any questions you may have.
For more details (including what other goodies you get when you register) and tickets to this FREE online event, head to Eventbrite, here.
Can't make it to the live session? Don't worry, all registrants will receive a recording of this event.
Ticket Price: FREE (but you do need to register. Once you have registered, you will receive a Zoom link prior to the event to join online).
2021-10-13T18:00:00-06:00
2021-10-13T19:30:00-06:00
DATE
Wednesday October 13, 2021