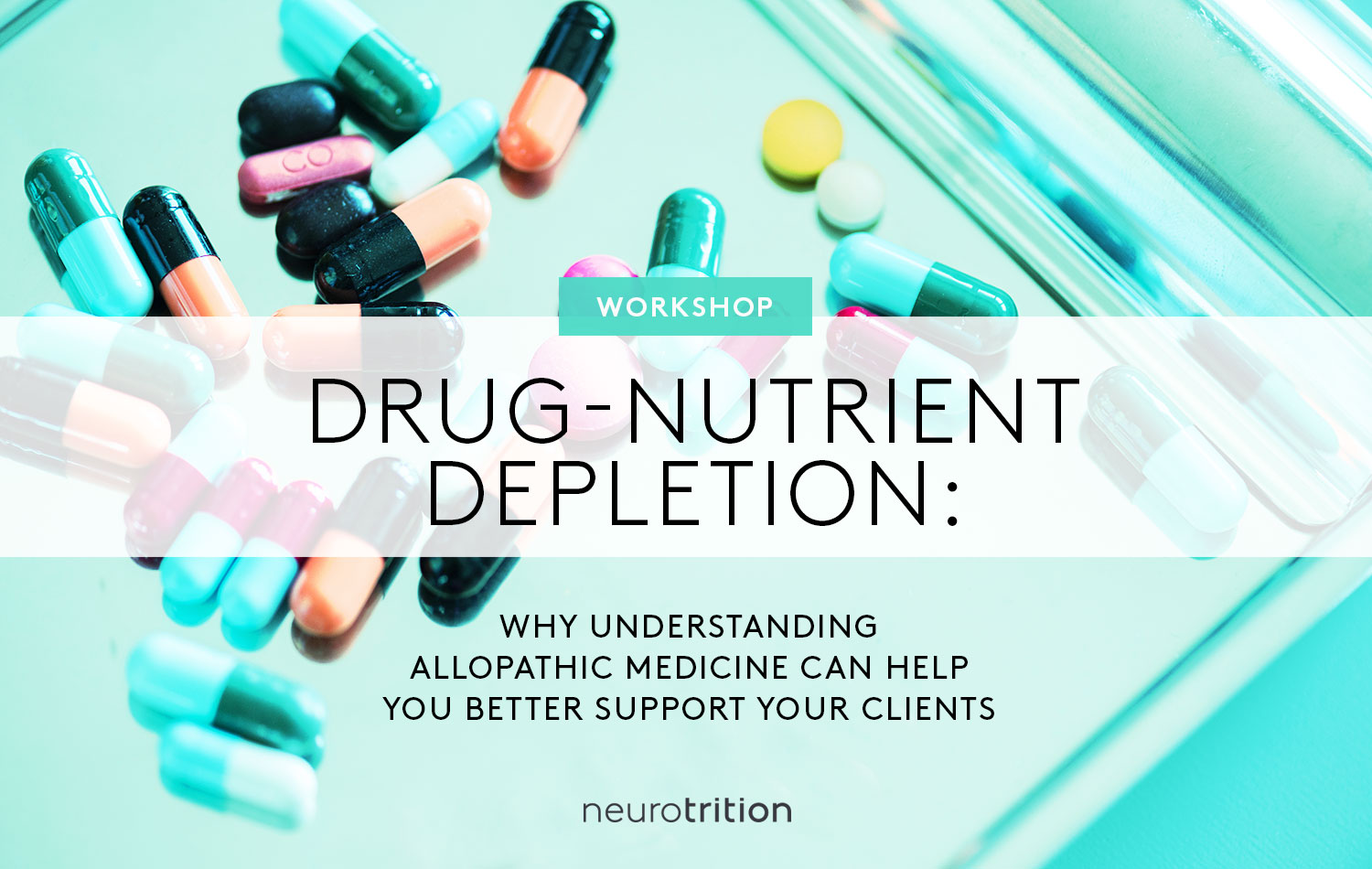 Online Workshop
Drug-Nutrient Depletion: Why Understanding Western Medicine Can Help You Better Support Your Clients Holistically
DATE
Saturday February 20, 2021
The truth is, many of us are on meds. And they can create nutritional deficiencies in the body. So you, as a nutritional consultant, need to know about them in order to best support your clients.
Orsha Magyar hosts this online workshop that prepares nutrition professionals, and other healthcare providers interested in the NeuroTrition Rx, to work with clients who are taking medications.
Please note: this is an advanced workshop geared towards practitioners, although everyone is welcome. When we discuss key nutrients that are depleted by medications, we will not be describing the whole food sources of these nutrients. We will, however, be explaining supplementation (and contraindications with medications).
WESTERN MEDICINE AND HOLISTIC NUTRITION: TOGETHER AT LAST!
Slowly but surely, allopathic and complementary medicine are coming together at the forefront of modern health care. Drugs unquestionably aid in client conditions (even if sometimes in a Band-Aid kind of way), but they can also deplete nutrients from the body and brain. And THIS is an outcome that holistic nutrition is uniquely positioned to step in and help!
Orsha will share exciting developments in the understanding of drug-nutrient depletion and give you comprehensive tools to expand your practice and advise your clients through a truly holistic lens that understands and respects both sides.
INSIGHTS THAT WILL CHANGE YOUR PRACTICE
Learn the nutrition-based mechanisms you can advise on to help prevent and support drug-nutrient depletion: critical information not covered in the curriculum of nutrition programs.
Leave prepared to better support your clients and work collaboratively with Western medical practitioners.
TOOLS TO ASSIST YOUR CLIENTS
Get comprehensive tools to quickly identify the major categories of drugs and determine the nutrients they deplete.
Learn the quick-hit nutritional protocols that complimentarily support these clients who are taking medications.
BECOME A LEADING-EDGE HEALTH PROFESSIONAL
Work with the Western medical profession - not against it. And get their respect by making their job easier (i.e. no more medicated patients in their offices complaining of symptoms and conditions brought on by drug-nutrient depletions!)
By understanding drug-nutrient depletion, you'll gain the knowledge and confidence to position yourself as a strong advocate in this emerging area of integrative healthcare.
Prepare yourself. Prepare your practice.
Ticket Price: $75 + GST = $78.75 (per person)
Please email us at info@neurotrition.ca to reserve your spot (space is limited to ensure that this event can be interactive, so let us know ASAP). We will accept e-transfer payment for this special event. Please send your e-transfer to orsha@neurotrition.ca with the password drugnutrientdepletion
Can't make it to the live session? Don't worry, all registrants will receive a recording of this event. If you're unable to make it live, please send your questions for Orsha in advance directly to her at orsha@neurotrition.ca and she will make sure to answer them during the Q & A.
Please note: Tickets are non-refundable
2021-02-20T10:00:00-07:00
2021-02-20T12:00:00-07:00
DATE
Saturday February 20, 2021