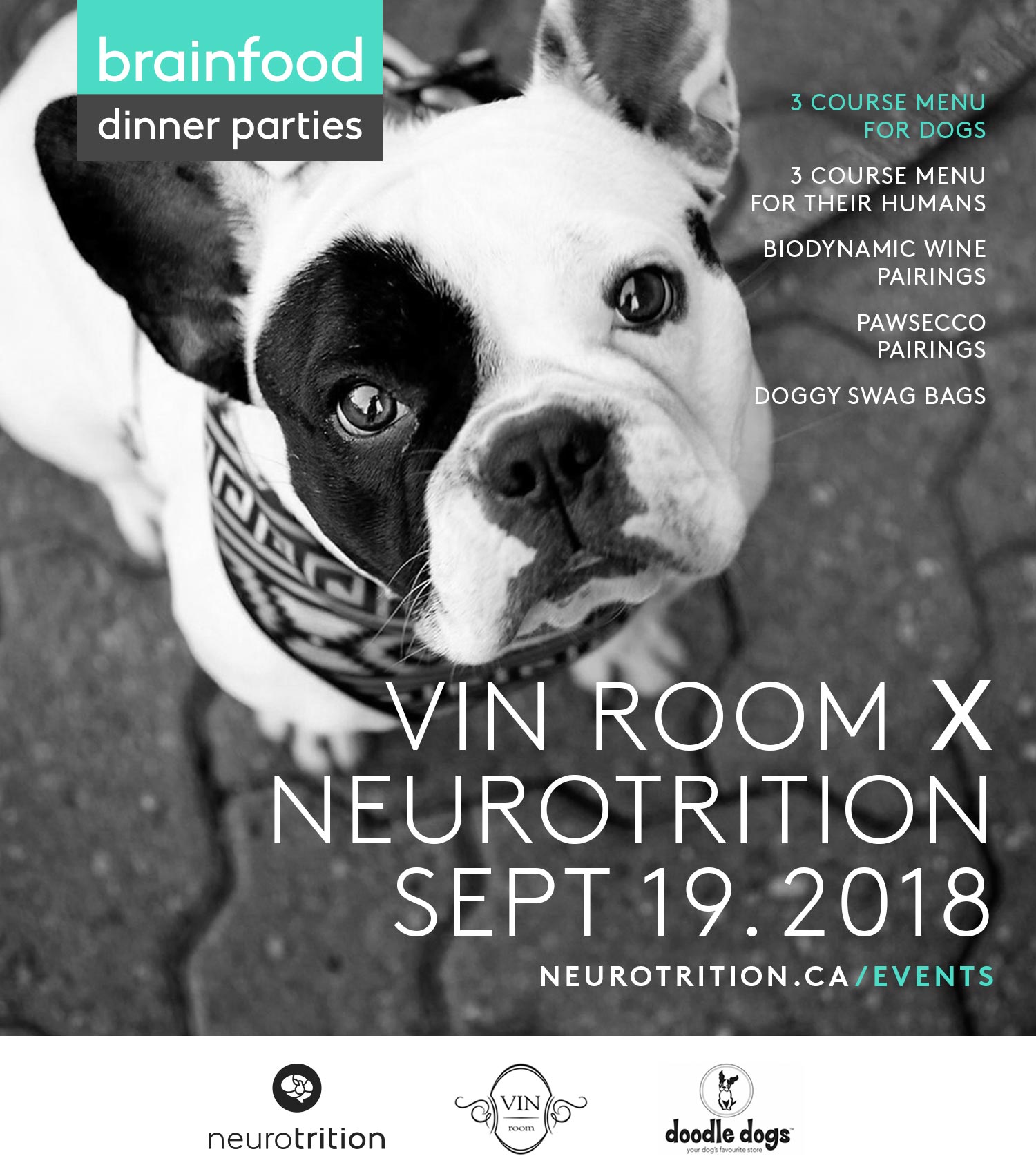 Dining Event
Brain Food Dinner Party :: Vin Room
DATE
Wednesday September 19, 2018
LOCATION
Vin Room West
8561 8A Ave SW
Calgary, AB
Our latest BFDP might just be our wildest PAWTY yet.
Nope, that was not a typo. Because our next Brain Food Dinner party is all about our FUR BABIES!
I've been wanting to bring my own dog child, Anise, into what we do at NeuroTrition for what seems like forever. I mean, she is the lovable mascot of the company, so we get asked about her regularly, but she mostly stays in the background outside of occasionally making an appearance on Twitter or Instagram. So when I went to Vin Room recently and discovered that not only was their patio dog-friendly but Anise was treated like a QUEEN, I just knew I had to work with them on an event like this. Plus, I've been itching to get the science about how pets are good for our brain and mental health out to the public. So, what better opportunity to do some exciting Sci Comm (that's science communication, for short) than a super cool dinner party celebrating dogs. And their humans, of course!
I will be working with Vin Room's Head Chef Mel Storozynsky to custom create a decadent 3-course brain-loving dinner for the humans focused on local, seasonal fare, and with their Sommelier Patricio Martinez on some incredibly thoughtful pairings.
But this event is all about the puppers - so I will ALSO be working to create a 3 course menu for dogs, complete with PAWsecco parings!
As each course is brought out for you and for your four-legged best friend, Vin Room's General Manager Thom Hill will be introducing each dish for both humans and doggos, Sommelier Patricio Martinez will be talking about the wine, and I will be sharing one important thing that brain science has taught us about how pets are so amazing for our mental health. Plus, you will leave with a brain-loving doggy swag bag for your fur baby (or if you don't have a dog child, for a friend's) from our friends at Doodle Dogs plus a special treat for you, too.
We have 35 tickets up for grabs here, and we welcome you to bring your well-behaved pooch (up to 15 dogs can come)! Or, come with other humans to soak in all the mental health benefits the pups will bring to this one-of-a-kind event!
*** Please note: This event is scheduled for September 12, 2018, but if it's raining cats & DOGS, we will move to September 19th as this is a patio event ***
Please email orsha@neurotrition.ca with any questions you may have. To book your tickets, go to Event Brite.
Ticket Price: $80
The ticket includes: a 3-course dinner + 3 biodynamic wine pairings, 3 course dinner for your dog + PAWsecco pairings, doggy swag bag (with a special gift for you), tax and gratuity.
---
THE BRAIN FOOD MENU ~ FOR HUMANS
The Vin Room team are more than happy to accommodate any and all food allergies. Just please make sure to add it into the comments section when you book your ticket on Event Brite.
First Course:
Vin Room House Salad
Artisan lettuce, pumpkin seeds, dried cranberries, red onion, cucumber, carrots, Roma tomatoes, white balsamic vinaigrette
Wine Pairing: Sauvignon Blanc, Brave Step, Chile – 2oz
Second Course:
Trio of tapas served family style
1. Roasted cauliflower flatbread
Flatbread, hummus, haloumi cheese, roasted red pepper purée, basil pesto, spinach
2. Hand Crafted Crab Cakes
Coconut turmeric sauce, Sweet drop peppers and micro greens
3. Fresh Seasonal vegetables
Beets and Swiss chard
Wine Pairing: Gamay, Chateau Juliénas, Chaintré Bois De La Salle - 5oz
Dessert:
Chocolate Fig brownies
Espresso crème anglaise, salted caramel gelato, vanilla chantilly cream
Wine Pairing: Caves Messias 10 Year Old Tawny Port (Douro Valley, Portugal) – 1oz
---
THE BRAIN FOOD MENU ~ FOR DOGS
Blueberry lavender pawsecco (water-based):
blueberries, lavender, coconut oil
Pumpkin coconut pawsecco (water-based):
pumpkin, ginger, coconut oil
Poultry pumpkin pawsecco (water-based):
turkey, chicken, pumpkin, turmeric ginger, parsley, coconut oil
Amuse Bouche:
rye flour, pumpkin, rolled oats, molasses, cinnamon, eggs, coconut oil
Main:
rye flour, free range beef liver, pumpkin, flax seed, eggs
Dessert "Pupsicle":
free range chicken, carrots, sweet potato, ginger, apple cider vinegar
2018-09-19T18:30:00-06:00
2018-09-19T21:00:00-06:00
DATE
Wednesday September 19, 2018
LOCATION
Vin Room West
8561 8A Ave SW
Calgary, AB