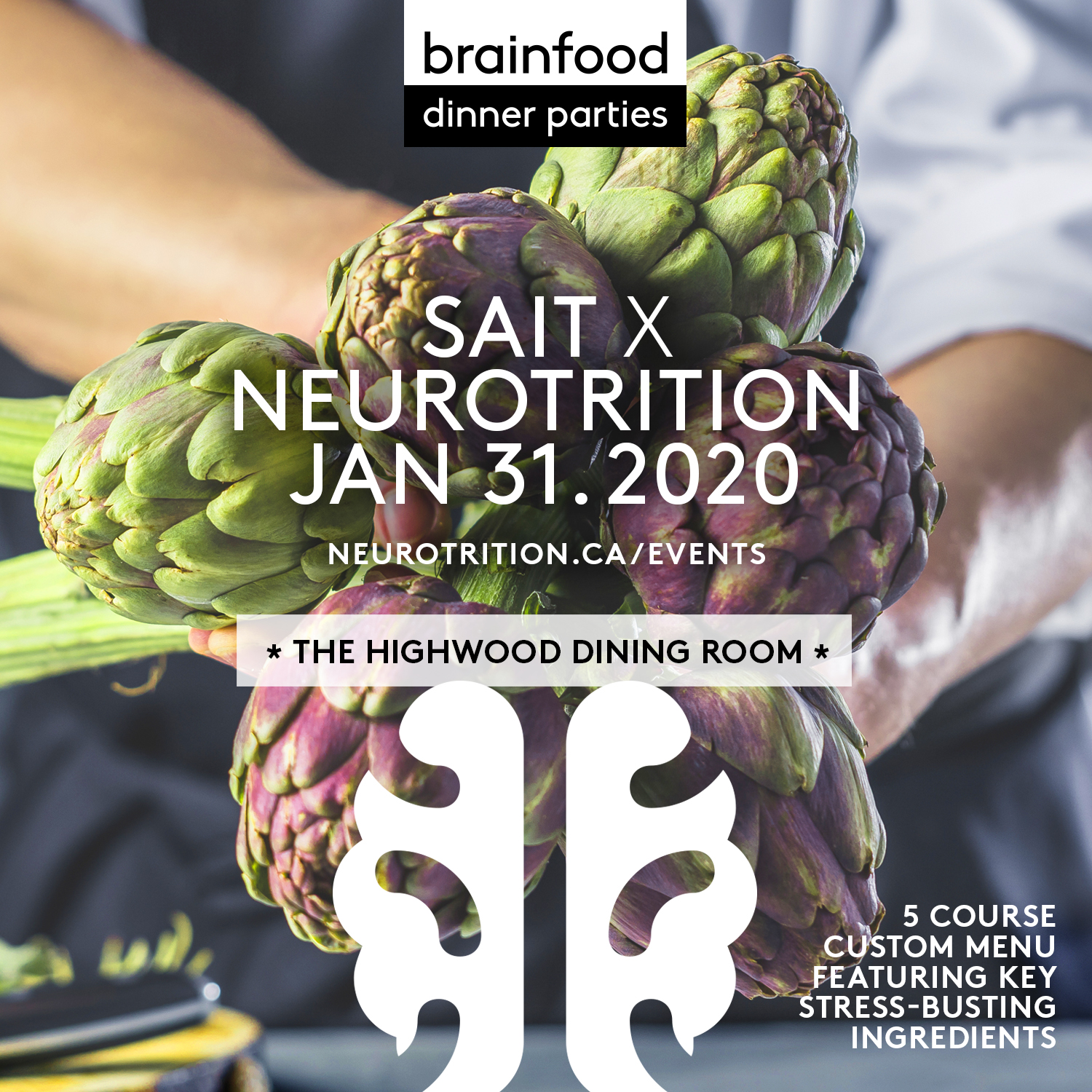 Dining Event
Brain Food Dinner Party :: SAIT X NeuroTrition Dinner 2020
DATE
Friday January 31, 2020
LOCATION
The Highwood Dining Room
1301 16 Ave NW
Calgary, AB
BACK BY POPULAR DEMAND - WITH A NEW YEAR'S GOAL IN MIND!

ALWAYS SPREADING THE BRAIN FOOD LOVE!
This is a special Brain Food Dinner Party. This dinner will be created around the NeuroTrition Rx (our prescription that perfectly pairs neuroscience and nutrition) for fighting back against the nasty effects of chronic stress.
Because stress is an inevitable part of our lives.
So what if, this New Year, instead of saying "I'm going to stress less," you learned how to nourish your body and brain to better handle its effects?
Because our events always aim to nourish your belly AND your mind, this 2020 menu will not only be delicious and decadent, it will also be thought-provoking. Each dish will be designed to help you fight the effects of stress, using food. And we will be explaining each course and its stress-busting effects.
The menu will be created based upon a revolutionary workshop NeuroTrition has developed for healthcare practitioners, called Stress & Emotional Eating. You may be familiar with it and may have even attended it. The workshop digs into the biological and neurological mechanisms of stress, blending leading science and holistic principles to reveal the power of food in overcoming the destructive impacts of stress.
The workshop is co-hosted annually by Orsha and Dr. Matthew Hill, Canada Research Chair on the Neurobiology of Stress, Royal Society of Canada member and NeuroTrition Science Council member. Dr. Hill will be introducing the event and giving a little crash course to get you up to speed on our stress response, why it used to be a good guy and how we've literally out-evolved it, and what it's doing to your brain and mental health.
This Brain Food Dinner Party will bring you all the goods from our popular workshop – but in an edible form. All of the amazing ingredients will be based on the science and artfully transformed into a spectacular 5 course menu!
OUR LEADING-EDGE CULINARY PARTNER
We are incredibly excited to partner with SAIT (that's the Southern Alberta Institute of Technology) for our latest brainy dining event. SAIT is recognized as one of the best Hospitality and Hotel Management schools in the world and the only school in Canada on this Top 50 list! And we are honoured to work with THE NEXT GENERATION of chefs who are about to graduate from SAIT's leading-edge culinary program. 
We will be working directly with SAIT chef instructors Chef Andrew Hewson (soon-to-be holistic nutritional consultant, too!) and Pastry Chef Laetitia Chrapchynski to make sure the food is on-point. We will also be working with SAIT's manager of continuing education and community engagement, James Werner, again to ensure the event and experience are flawless. Andrew, Laetitia and James have worked at incredible restaurants locally and abroad and are now living their passion of teaching up-and-coming chefs in SAIT's culinary program. And THEY will once again be bringing their best talent to the table. Literally. We are going to get their top culinary students to put their brains together and add the most modern, youthful, fresh approach to brainfood to welcome in 2020 with!
GET YOUR TICKETS.
We have 80 tickets up for grabs to this brainy food and drink event (that includes 5 courses and 5 custom pairings!) so please book now to ensure you get a seat. SAIT Chef Andrew Hewson and NeuroTrition's CEO Orsha Magyar will be co-hosting this event, introducing each dish and its stress-busting ingredients as well as answering any and all of your burning foodie and brainy questions. 
We really hope to see you for this awesome second Collab between NeuroTrition & SAIT. Reception begins at 5:30 PM, dinner to follow.
Please email orsha@neurotrition.ca with any questions you may have.
For ticket questions, please contact Kassaundra Baal at 403.774.4874 (Office) or Kassaundra.baal@sait.ca.
To get your tickets, register here.
Ticket Price: $75 + GST
The ticket includes: a 5 course dinner and 5 pairings custom created for this event.
---
BRAIN FOOD MENU
Passed Hors D'oeuvres
Oysters with kimchi hot sauce and popcorn shoots
Mini sweet potato and quinoa with coconut yoghurt and mint
Poached cherry tomato, black garlic, basil, dehydrated vegan "tortilla"
Turkey skewers, sunflower seed satay sauce, roast pineapple, cilantro
Cocktails – test tube alcoholic and non-alcoholic cocktails
First Course
PLANT-BASED CHARCUTERIE BOARD
Beet "pastrami", carrot cashew pate, pistachio crusted "cheese" ball, Saskatoon mostarda, Blacksmith mustard, brassica salad, and homemade seed cracker.
Pairing: Cherry, red grape and beet juice
Second Course
MUSHROOM "RAMEN"
Chaga and chicken bone broth, shitake, oyster and lions mane mushrooms, fermented celeriac noodles, chickpea miso, green onions, leeks and pea shoots. Garnished with a 63C degree egg.
Pairing: Reishi and rhodiola tea
Third Course
PALETTE CLEANSER
Mint kombucha granita
Fourth Course
FAMILY STYLE TACOS
Homemade sweet potato and gluten free flour tortilla shells
Black cod, Grass-fed beef (skirt or flank) or Lentil "meat"
Fermented jicama and cabbage, fermented tomato salsa, guacamole, homemade hot sauce, fresh cilantro
Pairing: Watermelon "Margarita"
Fifth Course
Shawz Oat, dark chocolate and sunchoke terrine with matcha/avocado mousse
Oat, chia and cacao Nib Tuille, date caramel with cashew nut butter, micro fennel
Pairing: Burnt Orange juice with ginger and carrot
2020-01-31T17:30:00-07:00
2020-01-31T21:00:00-07:00
DATE
Friday January 31, 2020
LOCATION
The Highwood Dining Room
1301 16 Ave NW
Calgary, AB