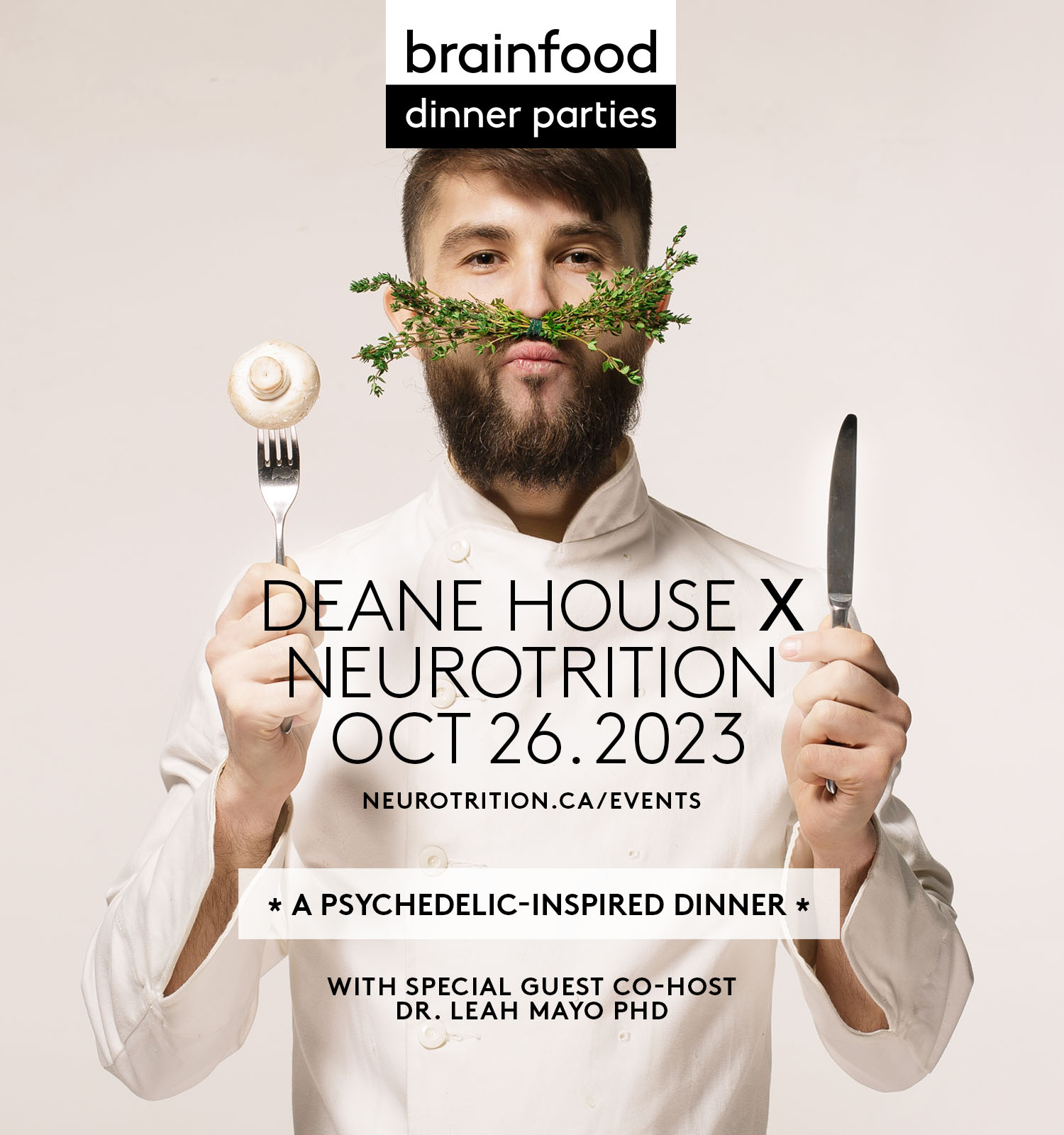 Dining Event
Brain Food Dinner Party :: Psychedelic-Inspired Edition
DATE
Thursday October 26, 2023
LOCATION
Deane House
806 9 Avenue SE
Calgary, AB
It seems like psychedelics in brain and mental health research are on a lot of people's MINDS. So we had to create an educational, delicious and totally tripped out event around it!
THE SCIENCE
At NeuroTrition, we are always trying to give people some serious food for thought, from the most qualified speakers. So it was a NO-BRAINER for us to invite Dr. Leah Mayo, who studies psychedelics in the Department of Psychiatry at the University of Calgary, to the table. In fact, she is the Parker Psychedelic Research Chair at the Mathison Centre for Mental Health Research & Education at the U of C's Hotchkiss Brain Institute. So we're going to go right ahead and give her the head of the table!
During this dinner party Dr. Mayo will educate diners on the science exploring the role of psychedelics in mental health treatment. She will touch on key areas of research including serotonin and tryptophan, LSD, MDMA and psylocybin, as well as fascinating research looking at "expectancy bias."
THE FOOD
You know that at NeuroTrition we are known for bringing the most delicious science communication you will ever taste to the table. It's kind of our thing, I guess you could say, and we love doing it. So we are delighted to partner with Chef Jason Barton Browne of Deane House to translate the science that Dr. Mayo will be sharing into a MAGICAL meal. Each course will be thoughtfully created, prepared and plated to showcase what the science is saying about the key areas within psychedelics research and mental health.
BUT WAIT, THERE'S DRINKS
You may know that we always like to create fun, thought-provoking BRAINY beverages to pair with our courses (maybe you remember our Ginky & The Brain, or our Thought-ka Vodka from a few years ago). You will have a choice of an alcoholic or non-alcoholic beverage pairing to accompany your meal, and each drink will be carefully selected or created to highlight core concepts from the research we will be exploring together.
A MIND-BENDING EVENT
Join us for an evening exploring psychedelics research and mental health! Hear from Dr. Leah Mayo as she walks you through the possibilities of psychedelics in mental health research. Enjoy a meal plus beverage pairings created exclusively for this special event that is inspired by tryptophan and serotonin, LSD, MDMA, psylocybin, and the "expectancy bias."
GET YOUR TICKETS
We only have 24 tickets up for grabs to this super intimate event. This means that you need to book NOW to ensure you get a seat at our psychedelic-inspired extravaganza.
Please email orsha@neurotrition.ca with any questions you may have.
To book your tickets: Call Deane House at (403) 264-0595 and ask for Megan or email events@deanehouse.com.
Ticket Price: $125
The ticket includes a 4-course dinner and 5 drink pairings custom created for this event plus talks by Dr. Leah Mayo and Orsha Magyar. Tax & gratuity are extra. For menus from a few of our previous Brain Food Dinner Parties, please visit our Media Room and scroll down to Culinary Collabs.
2023-10-26T18:30:00-06:00
2023-10-26T21:30:00-06:00
DATE
Thursday October 26, 2023
LOCATION
Deane House
806 9 Avenue SE
Calgary, AB