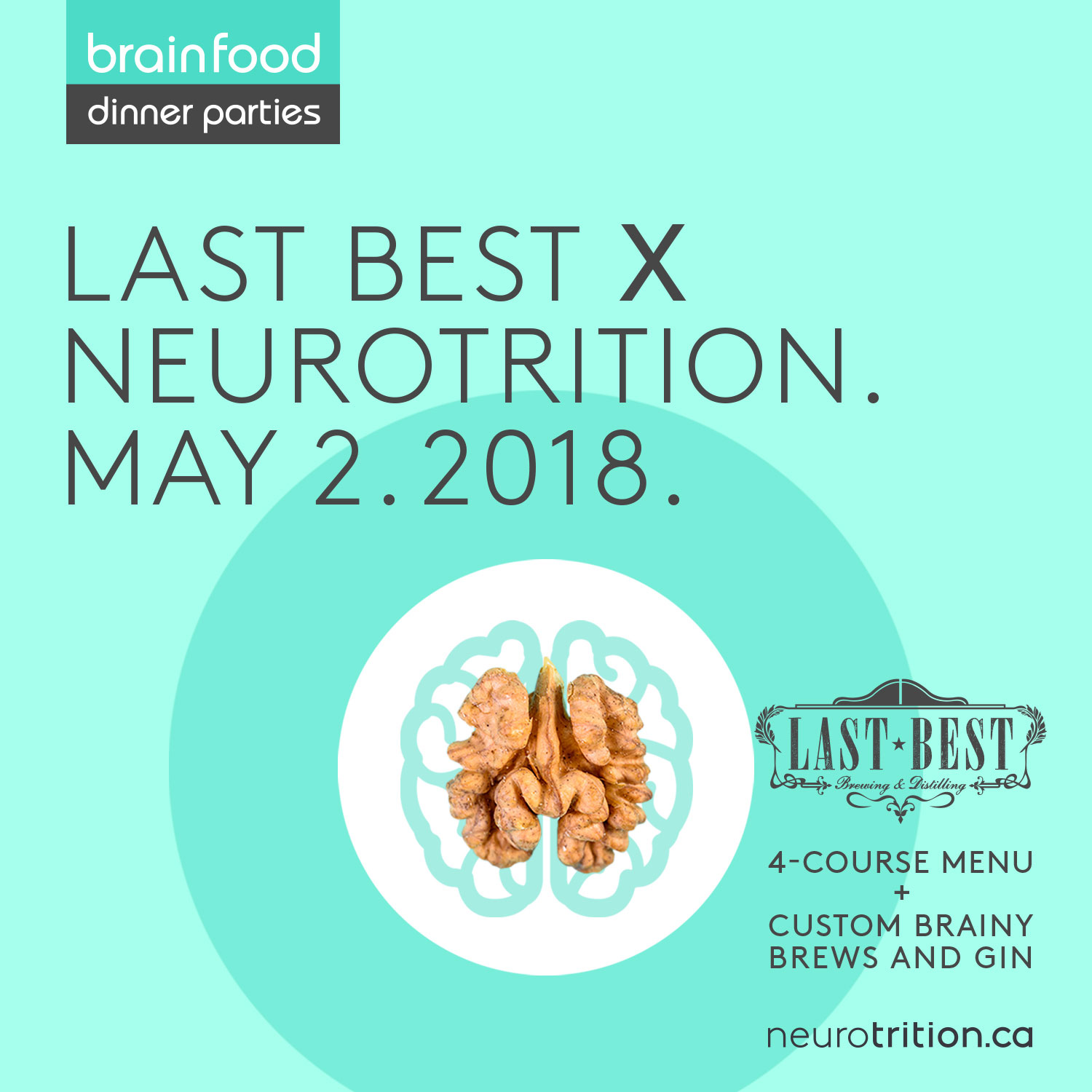 Dining Event
Brain Food Dinner Party :: Last Best Edition
DATE
Wednesday May 2, 2018
LOCATION
Last Best
607 11 Ave SW
Calgary, AB
I AM BEYOND EXCITED FOR THIS BRAIN FOOD DINNER PARTY (yes, I am type yelling).
We're always thinking of ways to blow your minds at these events, and this time we are partnering up with Last Best Brewery & Distillery. They are our community liaison for beer and beer culture in Calgary (their slogan popping up on merch around town, including on my new hoodie they gifted me, is Albeerta!), and they are working with me to custom craft a Brainy Brew for this event! They are very much about embracing the attitude of "craft" to distill their own spirits, too, and are working with me to make a neuron-loving infused gin debuting at the event as well! We can't guarantee you won't get a buzz, but we will make sure the drinks over the course of the evening blow your mind with their creativity and brain health-promoting ingredients.
Now, onto the food (which this place also does so, so well). Adam Trotchie, the Chef De Cuisine, is currently one of my students at the Canadian School of Natural Nutrition. He is on his way to becoming certified in holistic nutrition, and I really admire and respect his vision of bringing nutrition to the culinary world. He really gets good comfort food (my favourite type of food). And he has a special talent for elevating (and not detracting from, as some chefs do when they try to take a healthy spin on comfort food) his dishes by seamlessly weaving the concepts of seasonality, locality, and nutrition throughout them. The attention and detail paid to nutrition doesn't slap you in the face, but kind of gently caresses you if you know what to look for. Chef Adam has also created a dish that pays homage to my cultural roots in Hungary by exploring a seasonal, local (ish, we went with BC halibut) brain food take on a Hungarian classic, Halászlé. So I'm pretty smitten. <3
We have 30 tickets up for grabs to this brainy food and drink event that includes 4 courses and 4 custom pairings, so please book now to ensure you get a seat. Chef Adam and I will be co-hosting this event, introducing each dish as it comes out as well as answering any and all questions. We really hope to see you for this awesome Collab between NeuroTrition & Last Best.
Please email orsha@neurotrition.ca with any questions you may have. To book your tickets, connect with Last Best directly by emailing Ashlynn at Events@lastbestbrewing.com.
Ticket Price: $80
(This includes 4-course dinner + 4 pairings including a gin and beer custom created for this event, tax and gratuity.)
---
THE BRAIN FOOD MENU
Chef Adam and his team are more than happy to accommodate any and all food restrictions and dietary preferences, just let them know a week before the party!
Connect directly with Last Best by calling 587-353-7387 to make any special arrangements. Email inquires can also be sent to Ashlynn at Events@lastbestbrewing.com.
First Course:
Tamminga Farms Asparagus
Mint, Nut Crumble, Cured Egg Yolk, Grass Fed Butter Hollandaise
Second Course:
Grass Fed Beef Bulgogi
Cucumber Salad, Ginger Chips, Shiitake Mushrooms, Chard Kimchi Vinaigrette, Black Garlic Puree
Third Course:
Halászlé
B.C. Halibut, Hungarian Paprika Fish Broth, Bone Marrow, Umami Tomatoes 
Dessert:
Haskap Berry Shortcake
Coconut Whipped Cream, custom created Fiasco gelato
---
THE BRAIN DRINK MENU
Each of the 4 courses will be expertly paired with a beer or cocktail, and two of the drinks will be custom crafted just for this event!
Brainy Brew:
I am currently hard at work (it is so fun!) with Last Best's head brewer, Keil Wilson, to custom craft a brainy brew for this event. As soon as it's perfected, we'll post it - so please check back again soon.
Brainy Gin:
I also worked with Bryce Parsons, Last Best's master distiller, to create an amazing gin infused with neuro-protective ingredients. At the event, it will be paired with a turmeric tonic for the ultimate brain-loving Gin & Tonic. We're calling our crafted gin Ginky and the Brain and it's lovingly infused with all of the following botanicals, herbs and spices:
Juniper
Coriander
Lemon peel
White leaf sage
Lemon balm
Holy basil
Black peppercorn
Angelica root
Gotu kola root
Turmeric
Ashwagandha root
Rosemary
Thyme
We're also doing a limited release of this special gin, so we will have a few bottles for sale at the event. You'll be able to take Ginky and the Brain home with you!
2018-05-02T18:30:00-06:00
2018-05-02T21:30:00-06:00
DATE
Wednesday May 2, 2018
LOCATION
Last Best
607 11 Ave SW
Calgary, AB