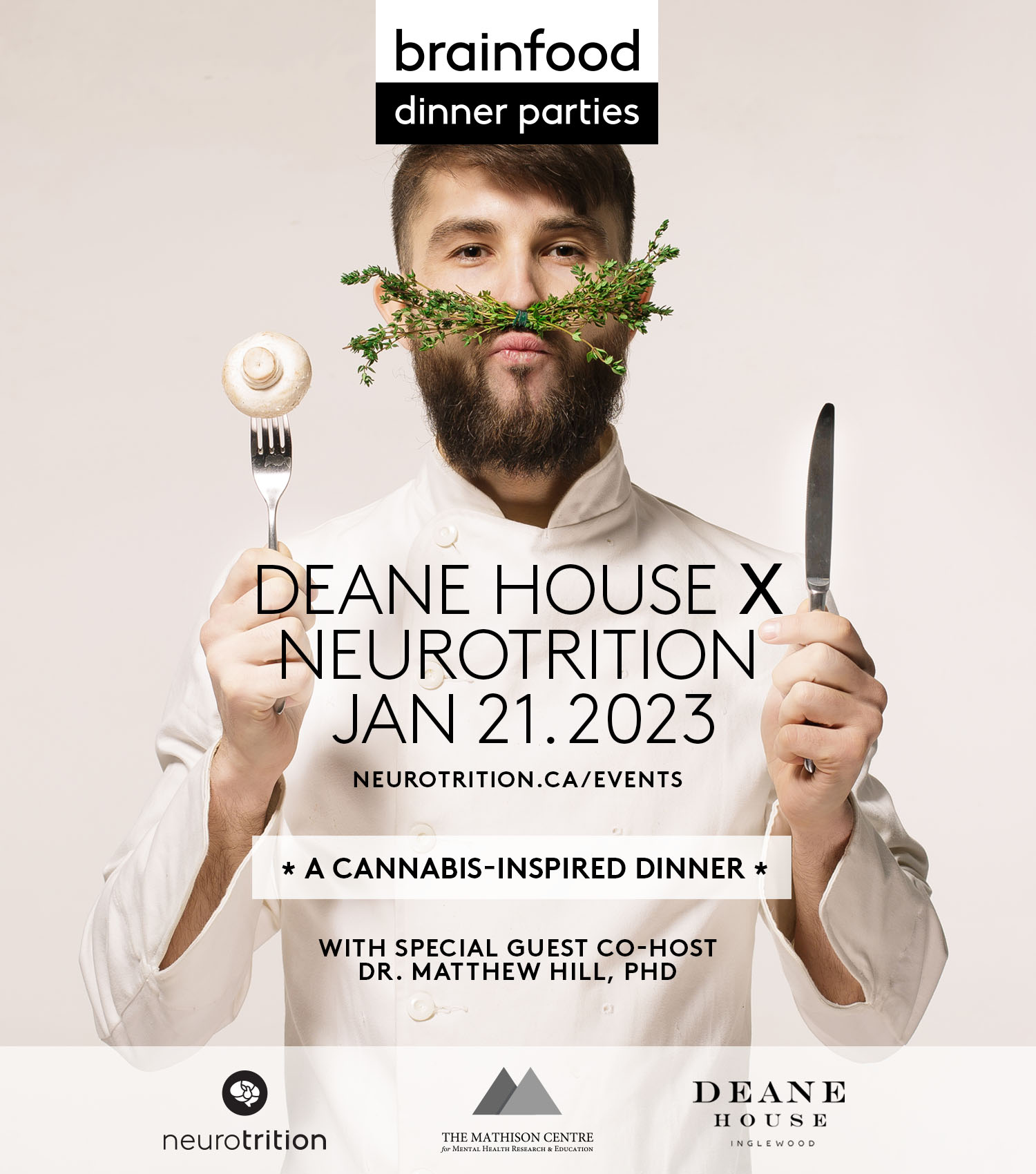 Dining Event
Brain Food Dinner Party :: Cannabis-Inspired Edition
DATE
Saturday January 21, 2023
LOCATION
Deane House
806 9 Avenue SE
Calgary, AB
After a very long pause due to the pandemic, our hugely popular Brain Food Dinner Parties are back! These events are known as "the most delicious Science Communication you will ever taste." Because they are renowned for translating the coolest neuroscience research into thought-provoking, decadent meals.
For these events, we always partner with a restaurant who aligns with our local, seasonal, farm-to-table philosophy, and work with their Executive Chef to custom design the menu. For the first time we will also be partnering with another organization to make this quite possibly our brainiest dinner yet!
WHO ARE WE PARTNERING WITH?
At NeuroTrition, we are always trying to give people some real food for thought. It is important to us that the public gets real science, directly from the mouths of scientists, to ensure the most accurate, reliable information. Because we believe that especially when it comes to your brain and mental health, you need to hear about what the science is saying from the experts.
This is why we are proud to partner with the Hotchkiss Brain Institute's Mathison Centre for Mental Health Research And Education at the University of Calgary!
Our very own Orsha Magyar, CEO & Founder of NeuroTrition, will be co-hosting this special event with Dr. Matthew Hill who is the Deputy Director of the Mathison Centre. Dr. Hill sits on our NeuroTrition Science Council, and is also the Executive Director of the Canadian Consortium for the Investigation of Cannabinoids, the former President of the International Cannabinoid Research Society, and Professor at the Hotchkiss Brain Institute.
WHAT ARE WE LEARNING ABOUT?
During this dinner party, we will have the pleasure of Dr. Hill educating diners on the endocannabinoid system (the body's own version of cannabis) as he discusses how cannabis influences our brain (and thus our behaviour), how it affects our feeding behaviour (including the science of The Munchies) and how it relates to our brain and mental health.
He will also answer the burning question so many people have, "how can we boost our own endocannabinoids - without cannabis?" Because this is a foodie event as much as it is a brainy one, you might be wondering if there is something you could be eating that boosts your body's own version of cannabis. And it turns out, THERE IS. So we are going to be eating these foods!
WHAT ARE WE GOING TO BE EATING?
SPOILER ALERT! Science says that one of the ways we can boost our body's own version of cannabis is through food. Things like rosemary, cacao, and truffles to name just a few ingredients that will tickle your neurons and tastebuds over this 5-course meal! We are partnering with Executive Chef Jason Barton-Browne, of Deane House, to create the perfect exploration of these ingredients (and so many more) within the context of a menu inspired by Winter in the Canadian Rockies and Alberta plains. We have worked with Deane House three times before and couldn't be more excited to collaborate again! Each course will be thoughtfully created and prepared to showcase the foods we get our NeuroTrition clients to eat in order to increase their endocannabinoids for better brain and mental health.
GET YOUR TICKETS.
We have very limited tickets available to this intimate event that will be hosted in the Deane House's private library. So please book NOW to ensure you get a seat at our cannabis-inspired extravaganza.
Please email orsha@neurotrition.ca with any questions you may have.
To book your tickets: Call Deane House at (403) 264-0595 and ask for Stephanie, or email events@deanehouse.com.
Ticket Price: $125
The ticket includes: a 5-course dinner and pairings custom created for this event. Tax & grat are extra.
BRAIN FOOD MENU
Chef Jason and his team are more than happy to accommodate any and all food restrictions or dietary preferences (including vegetarian, vegan, gluten free, dairy free or anything else you need). Please let them know when you book your tickets.
TO START
Bison tartare
Lemon Preserve, Mushroom, Black Pepper
FIRST COURSE
Cured B.C. Sablefish
Braised Leek, Creme Fraiche Vinaigrette, Crispy Shallot, Fresh Parsley
SECOND COURSE
Roast Yam Veloute
Hemp Seed and Rosemary Gremolata
ENTREE
Grilled Bison Striploin
Cocoa Roasted Carrot, Sunchoke Puree, Rosemary And Sprouted Quinoa
DESSERT
Lavender Crueller
Vanilla Ice Cream, Pumpkin Seed Brittle
2023-01-21T18:00:00-07:00
2023-01-21T21:00:00-07:00
DATE
Saturday January 21, 2023
LOCATION
Deane House
806 9 Avenue SE
Calgary, AB