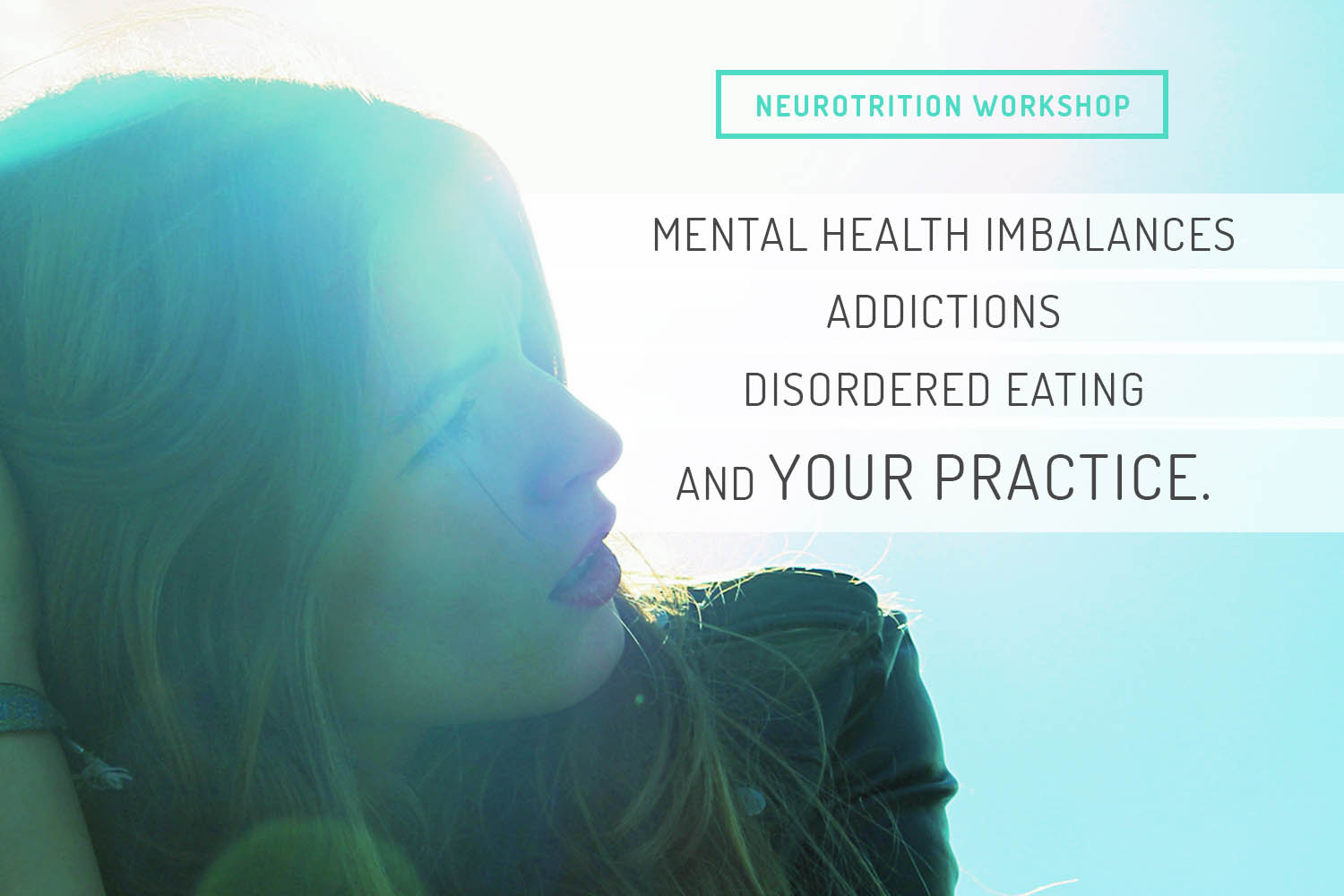 Workshop
Mental Health Imbalances, Addictions, Disordered Eating. And Your Practice.
DATE
Saturday March 10, 2018
LOCATION
Edmonton CSNN
8925-51 Ave NW, #316
Edmonton, AB
1 in 4 Canadians experience mental illness, addiction and disordered eating - all at the same time. Some of them will be your clients.
Orsha Magyar hosts this workshop that prepares nutrition professionals, and other healthcare providers interested in a NeuroTrition approach, to work with challenging cases.
Using an evidence-based framework and real-life intake forms from Orsha's clients, this two-part workshop offers hands-on opportunities to practice making connections and recommendations with guided supervision in an immersive, clinic-style exploration of working with co-morbid mental health imbalances, addictions, and disordered eating.
MORNING SESSION:
PREPARING YOURSELF & YOUR PRACTICE
Discover the interpersonal aspects of working with mental health issues, addictions and disordered eating. Orsha will help you assess your personal level of commitment to working with this clientele and will share a step-by-step model for supporting the complex client, exploring:
Assessing client fit
Non-invasive assessment
Making effective recommendations
Nourishing progress and referring out
Building rapport
What holistic means for this clientele
Identifying boundaries & red flags
AFTERNOON SESSION:
HOW CAN THE NUTRITION PROFESSIONAL SUPPORT MENTAL HEALTH CLIENTS?
Learn specific neuro-nutritional protocols for depression, anxiety, schizophrenia, ADHD and more. Orsha will also share six specific, evidence-based holistic tools for working with addictions within our scope of practice, including:
Problem recognition
Source recognition
Harm reduction
Withdrawal symptom relief
Craving prevention
Mindfulness
Prepare yourself. Prepare your practice.
To register for this workshop and secure your spot, connect with us by email or phone, here.
Ticket Price: $250 + GST (per person)
Please note: Tickets are refundable only up to March 2, 2018. After March 2, 2018, tickets are non-refundable. Tickets are transferable.
2018-03-10T09:00:00-07:00
2018-03-10T17:00:00-07:00
DATE
Saturday March 10, 2018
LOCATION
Edmonton CSNN
8925-51 Ave NW, #316
Edmonton, AB