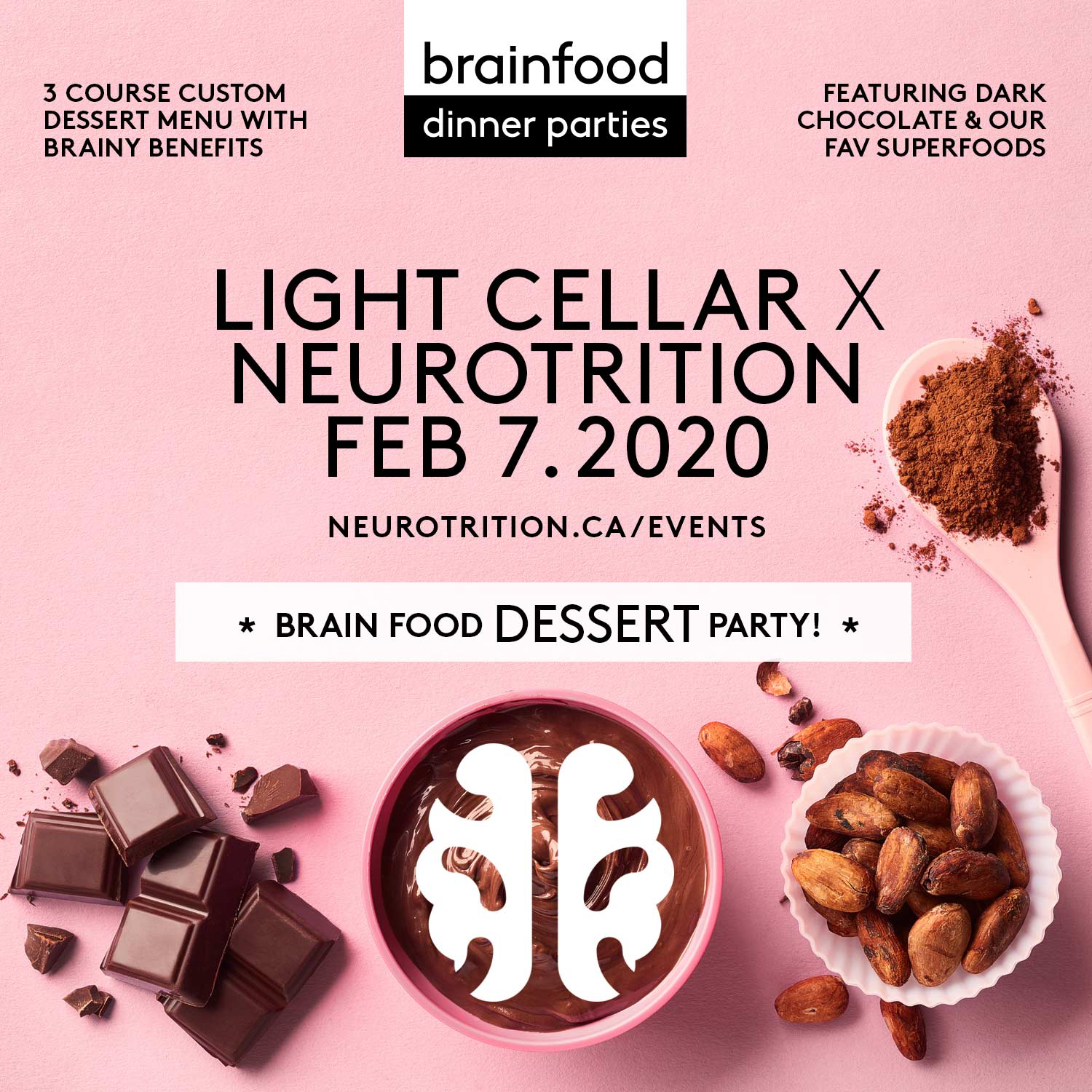 Dining Event
Brain Food DESSERT Party :: Light Cellar X NeuroTrition
DATE
Friday February 7, 2020
LOCATION
Light Cellar
6531 Bowness Rd NW
Calgary, AB
BFDPs JUST GOT A WHOLE LOT SWEETER - OUR FIRST EVER BRAIN FOOD DESSERT PARTY!
YES, YOU CAN HAVE YOUR CAKE AND EAT IT TOO!
This is an exciting and *brand new* take on our Brain Food Dinner Party. Please welcome our Brain Food DESSERT Party. This 3-course event will be created around the NeuroTrition Rx (our prescription that perfectly pairs neuroscience and nutrition) for enjoying dessert.
We get asked about dessert, A LOT. And many people think there's no possible way dessert could be a part of our NeuroTrition Rx for brain and mental health.
Well, in case you're new here (welcome!), we have always been passionate about brain hacking the heck out of the most indulgent, decadent foods out there, and turning them into bona fide brain foods (without compromising on flavour. Ever). We have never believed in deprivation or restriction (hello, it doesn't work!). So we thought, why not host a dedicated dessert party…I mean, who doesn't love dessert?
We are launching our Brain Food DESSERT Party to teach you exactly how our clients are living their best lives, while enjoying dessert. We have perfectly timed this in advance of Valentine's Day, so you and your loved one can skip the busiest restaurant night of the year and learn how to create your own chef-worthy recipes right in the comfort of your home. Or if you and your friends are wanting a fun night out, this is the perfect event to treat yourself too!
You can expect the same belly- and brain-nourishment at this dessert party that our usual BFDPs deliver. Our menu will not only be delicious and decadent, it will also be thought-provoking. Each course will be thoughtfully designed to help you learn about the top ingredients that we work with to create dessert recipes for our clients.
Each dish will be based on various types of chocolate as the base note and incorporate our favourite superfoods throughout. All of the amazing ingredients will be based on the science showing that in order to keep our brain and mental health on point, we need to balance blood sugar, fight inflammation (including neuro-inflammation!) and reduce oxidative stress. The data will be artfully transformed into a Valentine's Day worthy 3-course dessert menu! Basically, you'll get the science — but in an edible form!
But wait. There's more.
OUR SUPER SUPERFOOD PARTNER
We are so delighted to partner with Light Cellar for our first Brain Food DESSERT Party. Light Cellar is an independent and inspired business offering the largest range of superfoods in Canada and mind-blowing chocolate (not to mention a variety of in-house and online classes). So, when we began to create the best superfood-meets-comfort brain food event ever, we knew exactly who to approach. Malcolm Saunders, Owner & Creative Visionary behind Light Cellar, will be working with NeuroTrition's Orsha to bring the world of superfoods into the NeuroTrition Rx for desserts.
Malcolm and Orsha will be co-hosting the event and educating you on the specific superfoods in each dessert and what the brain science is saying about them. And chef Megan Barefoot, who is the brain behind recipe development for this event, will be there to explain how you can make these desserts at home (we're also going to send you home with the recipes, not to mention a treat bag with a second portion for a loved one…or for yourself…)!
GET YOUR TICKETS
We have 24 tickets up for grabs to this superfood-meets-comfort brainfood dessert party (that includes 3 plated dessert courses, recipes to take home, plus a second portion of each dessert to go!), so don't hesitate to book now and ensure your seat. The menu will be 100% plant-based, hypoallergenic, and will adhere to the NeuroTrition Rx for, well, having your cake and eating it too!
Malcolm Saunders, CEO of Light Cellar, and NeuroTrition's CEO Orsha Magyar will be co-hosting this event, along with chef Megan Barefoot. We will introduce each dish and the science behind its superfood ingredients as well as answer any and all of your burning super foodie and brainy questions.
We really hope to see you for this awesome Collab between NeuroTrition & Light Cellar. This event starts at 7:00 pm.
Please email orsha@neurotrition.ca with any questions you may have.
For ticket questions, please contact Light Cellar at info@lightcellar.ca or 403-453-1343.
To get your tickets, register here.
Ticket Price: $75 + GST
The ticket includes: a 3-course dessert pairing, crash course on key superBRAINfoods, recipes to take home, plus a second portion of each dessert to go!
---
BRAIN FOOD MENU
We are hard at work creating the menu for you, so please check back because we will post it as soon as it is ready. The menu will be 100% plant-based, blood sugar balancing, anti-inflammatory, free radical fighting, and hypoallergenic. AND IT WILL BE SO, SO DELICIOUS.
 
2020-02-07T19:00:00-07:00
2020-02-07T21:00:00-07:00
DATE
Friday February 7, 2020
LOCATION
Light Cellar
6531 Bowness Rd NW
Calgary, AB