Details are coming soon. Sign up for our newsletter to get notified first!
About The Conference
This year's conference will be an online summit due to the COVID-19 pandemic. And we're using this new virtual format as an opportunity to bring international world experts to NeuroTrition Conference 2020! Please stay tuned for us to announce the date and speaker list. Sign up for our newsletter and you'll be the first to know when details are announced!
The NeuroTrition Conference is for anyone who wants to learn the connections between neuroscience and nutrition, and how they affect our lives. This conference brings you closer to renowned neuroscience experts, and you get the science directly from them (instead of filtered through the media!) in an interactive, fun setting. The programming is designed to translate this scientific expertise into practical information that you and your family can use everyday. Enter our immersive NeuroLife Sessions, which showcase NeuroTrition client case studies and evidence-based protocols you can start using right away! We also set aside plenty of time for panel discussions, and for you to directly talk to the speakers so you can ask them your burning questions.
Please check out our previous speakers from NeuroTrition Conference 2019 and videos from our inaugural conference for a taste of what is coming at our NeuroTrition Conference 2020.
---
---
---
Location
This will be an online event
---
MC
Orsha Magyar
Founder & CEO, NeuroTrition
---
Sign up for our newsletter to get details first!
---
2019 NEUROSPEAKER PROGRAM
We are currently putting together our 2020 online conference program, so please stay tuned! One highlight of the NeuroTrition conference is the NeuroSpeaker Program, and below are the renowned neuroscience experts from our 2019 conference. This is a taste of what you can expect at NeuroTrition Conference 2020.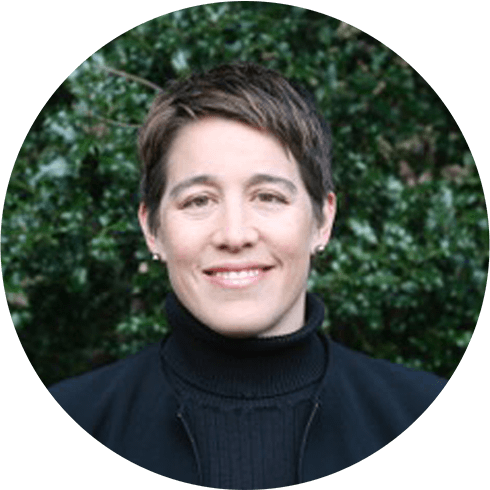 Session 1
BABIES' BRAINS!
We all have heard the saying, "you are what you eat." But are you also what your mother ate?
Recent research has shown that a mother's diet during pregnancy can affect the development of her baby's brain. One reason for this is that the developing brain is readily impacted by the environment (think food, chemicals, or drugs). Importantly, parts of the brain are slower to develop, and are not fully mature until well in to our mid-20s! This means that these regions of the brain remain vulnerable to environmental challenges right through adolescence into adulthood.
This engaging talk by Dr. Reyes, Associate Professor in the Department of Psychiatry and Behavioral Neuroscience at the University of Cincinnati, and NeuroTrition Science Council member, will present information showing how your mom's diet during pregnancy or your diet during adolescence can affect your brain development and behaviour. Spoiler alert: Exciting new research suggests that one way early life diet affects the brain is by changing the immune response within the brain. Whoa, did you know your brain even has its own immune system?!?. It sure does, and you're going to learn about it and so much more!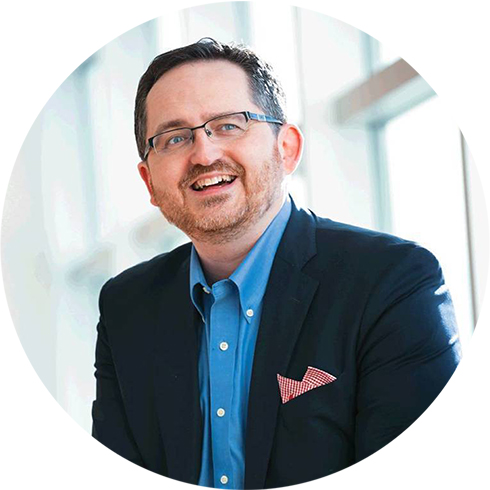 Session 2
TEENS' BRAINS!
Have you ever looked at your teenager and wondered "What the heck is going on in that head of yours??" Well, it's a lot, actually.
Adolescence is a very special time of physical, cognitive, social, and emotional growth. This is reflected by tremendous changes in brain structure, function, and chemistry. During adolescence, the brain becomes more connected and specialized, and how different parts of the brain work together also changes during this time. Finally, the developing brain is very reactive to both environment and lifestyle. This represents a double-edged sword of increased learning and plasticity but also increased vulnerability to brain and mental health imbalances. Brain imaging has allowed us to look inside the brain for a better understanding of these changes structurally (anatomical magnetic resonance imaging [MRI] and diffusion tensor imaging [DTI]), functionally (functional MRI [fMRI]), and chemically (magnetic resonance spectroscopy [MRS]).
This fascinating talk will be led by Dr. Frank MacMaster, who is an Associate Professor of Psychiatry and Pediatrics at the University of Calgary and the Scientific Director of the Strategic Clinical Network for Addictions and Mental HealthTM for the province of Alberta. Dr. MacMaster will provide insight into how exactly the brain develops in teenagers and how this makes them so amazing but also so vulnerable to mental health problems.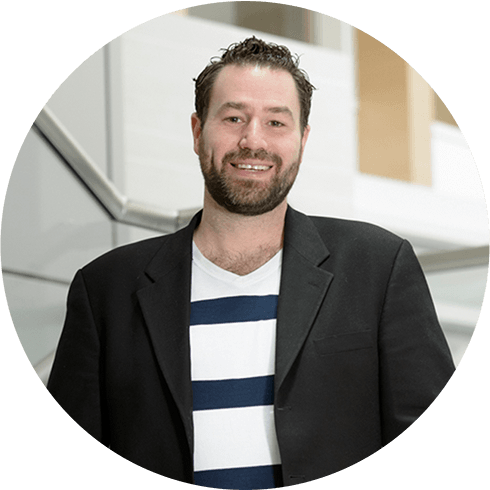 Session 3
CANNABIS & BRAINS!
Since Canada was the first Western country to legalize the recreational use of cannabis, it has been on *everyone's* mind. Right?!? Right. We know you want to know what's up: is it so bad for you? Can it be good for you? Can you get hooked on it? Can it make you mentally ill? There is a lot of talk about cannabis, but with that a lot of misinformation, myth and hype in the media. So it's really unclear how to disentangle reality from hyperbole.
Enter NeuroTrition's Dr. Matthew Hill, who is also the Executive Director of the Canadian Consortium for the Investigation of Cannabinoids, the former President of the International Cannabinoid Research Society, and associate professor at the Hotchkiss Brain Institute of the University of Calgary. In this enlightening talk, Dr. Hill will walk you through the current state of science and evidence of what we know about how cannabis affects the brain across the entire lifespan. He will touch on the effects of prenatal exposure to cannabis, the impacts of use during adolescence, the relationship of cannabis use to mental health and illness, what is the evidence for medical benefit and how cannabis impacts the aging brain.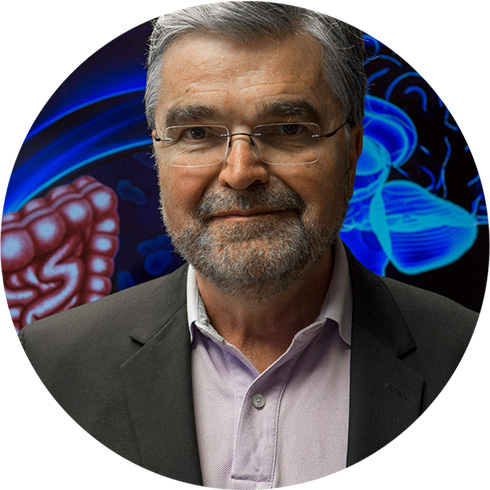 Session 4
GUTS & BRAINS
The relationship between the gut and the brain, or, in doc talk, "brain gut microbiome (BGM) interactions," have become an important topic in many fields of medicine, psychiatry and neurology. There is, in fact, growing evidence that these interactions play a crucial role in human brain health and some human brain disorders.
This represents a major paradigm shift in how these disorders are being viewed (and, as the scientific story builds, how they may be treated).
Dr. Emeran Mayer, a gastroenterologist at UCLA's Center for Neurobiology of Stress and Resilience and best-selling author of The Mind-Gut Connection will host a brilliant talk describing how early life events (including maternal nutrition, mode of delivery, breastfeeding, antibiotic exposure and stress) play a crucial role in establishing the basic structure and function of the system for the rest of a person's life. He will also outline how, during adulthood, nutrition and mind-related factors (e.g. emotions, stress) can modify, but not fundamentally alter the early established BGM interactions. Based on these critical windows during the lifespan, Dr. Mayer will guide us on an exploration of how our guts might have quite a bit do do with our brains throughout our entire lives, and specifically with developmental disorders (anxiety, autoimmune, allergies, obesity), adult disorders (metabolic, cardiovascular disease, cancer) and neurodegenerative disorders (Alzheimer's, Parkinson's disease).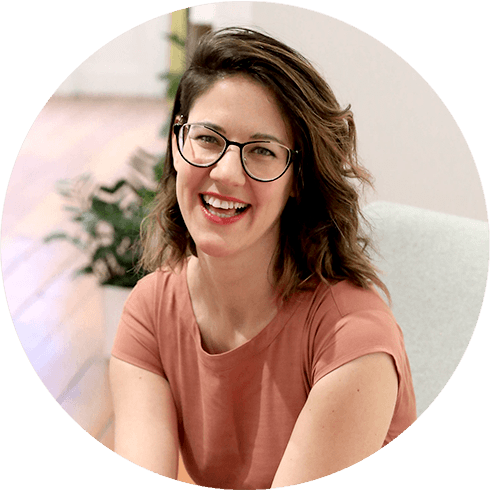 **AFTER EACH SPEAKER**
NEUROLIFE SESSIONS :
CLIENT CASE STUDIES + PROTOCOLS
The NeuroLife Sessions are designed to take what you've learned from the speakers and put it into real life relevance. After each speaker in the NeuroSpeaker program, Orsha Magyar will present a NeuroTrition client case that really humanizes what the speaker talked about. Then, Orsha will outline the NeuroTrition Rx that was used for that client. If you haven't heard of our NeuroTrition Rx yet, it's our proprietary 3-step process where we go from neuroscience research to nutrition protocols to brain food recipes! You will learn how to apply the NeuroTrition Rx to a pregnant mom and her baby, a teenager, someone who smokes cannabis and someone with gut-brain imbalance.
Sign up for our newsletter to get details first!
---
2019 Brain Food Revolution Panel
The Brain Food Revolution is changing how we see the connections between what we eat (and what substances we may take), what happens in our brains and what that means over the course of our entire lives. Just a few short years ago, few had heard of it, now it's picking up steam in academic and general public circles. Last year's panel discussion explored this emerging phenomenon and you can expect another all-star panel at NeuroTrition Conference 2020. Stay tuned for details.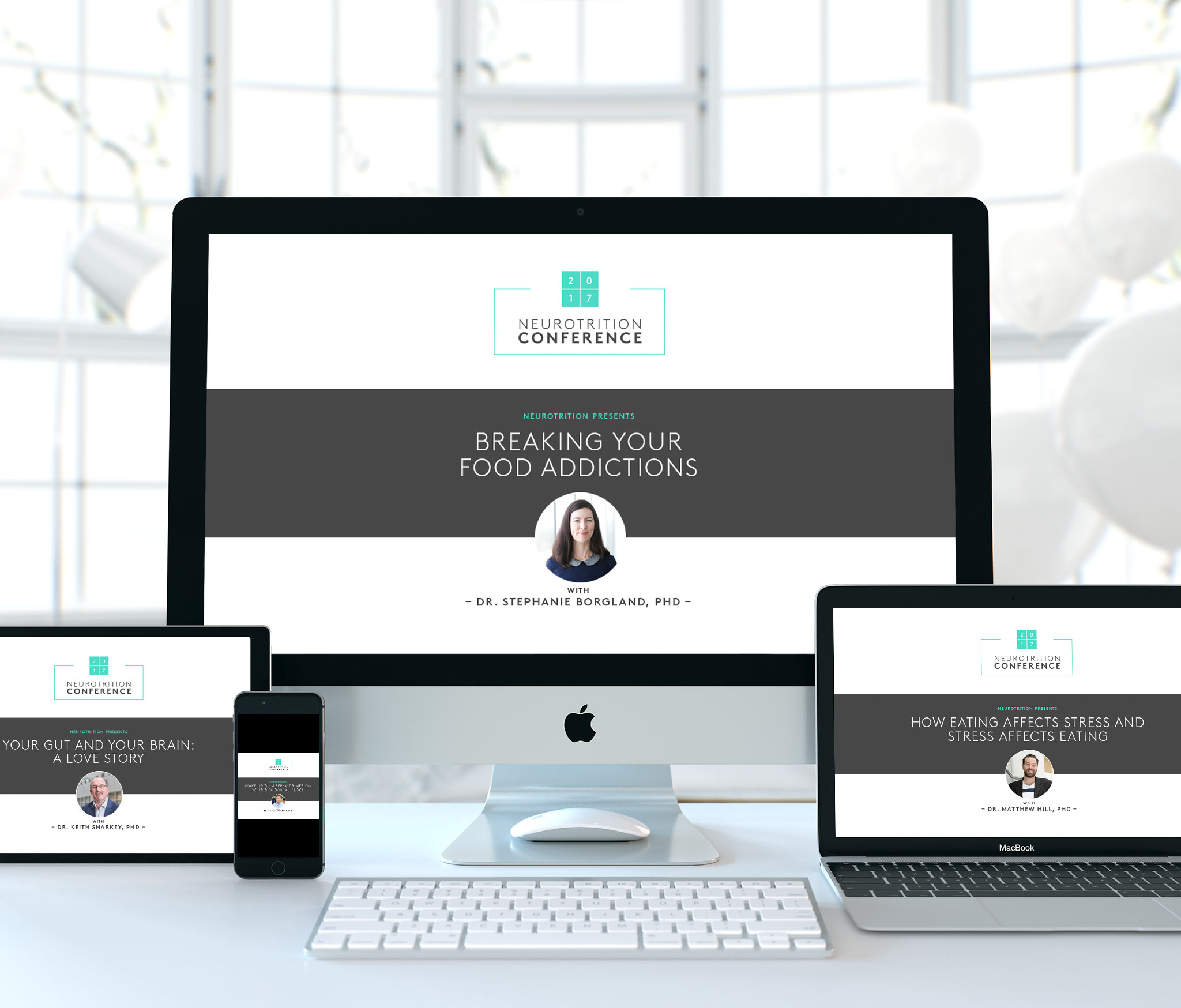 The 1st Conference Collection
We hosted our inaugural NeuroTrition Conference in 2017, with an all-star NeuroSpeaker program from four of our esteemed Science Council members. They delivered leading edge thinking on everything from sleep habits and stress eating to food addictions and the gut-brain connection. These stellar lectures gave you science-backed information – right from the experts' mouths. And guess what? We recorded it all! Our Conference Collection from the NeuroTrition Conference 2017 gives you 3 hours of engaging, science-backed video content, and we're offering a 50% DISCOUNT on it for all conference attendees.
NeuroTrition Conference 2020 drops this Fall. Be the first to get details and learn who our all-star speakers will be. Sign up for our newsletter to be notified first!